Driving Lessons and COVID-19
March 2022
With the lifting of COVID-19 restrictions affecting driving and theory tests in England from Tuesday 1st March,and in line with the government announcement that English restrictions ended on 24 February.
Pupils will have the personal choice on whether they want to wear a face covering on their driving lessons from the end of April.
I will also make a personal choice to wear a face covering if I wish.
Face coverings will then continue to be a personal choice for you and I during driving lessons.
At any time I may ask you to wear a mask if I feel the need.
Steve
July 19th 2021
Because of the close environment we find ourselves in during driving lessons, I will continue to wear a mask and clean all touch points in the car at the end of each lesson for the foreseeable future.
I will also require for both our safety that anyone in my car during a driving lesson will also have to wear a mask or the driving lesson will not take place.
This is in line with current DVSA requirements.
Keep well, Keep safe.
Steve.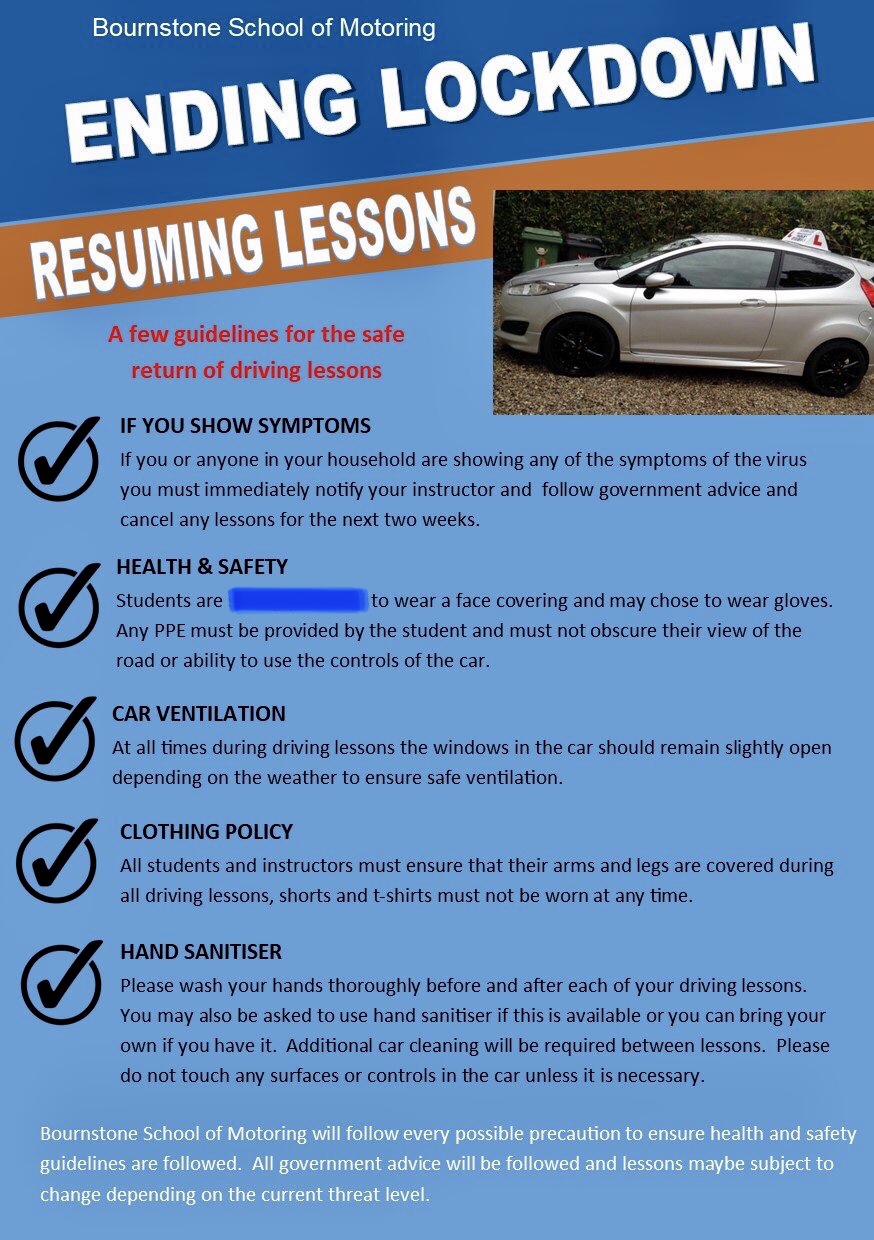 PLEASE TAKE NOTE!
This is for everyone taking Driving Lessons.
You must bring and wear a face covering when you come for your lesson, unless you have a good reason not to. This includes if:
* you have a physical or mental illness or impairment, or a disability that means you cannot put on, wear or remove a face covering
* putting on, wearing or removing a face covering would cause you severe distress
* you need to remove it during your test to avoid harm or injury or the risk of harm or injury to yourself or others
You need to say if you have a good reason not to wear a face covering when you arrange your lesson.
Your lesson will be CANCELLED and you will be CHARGED if you come for your lesson without a face covering and you did not declare you could not wear one when you arranged your lesson.
( I will have some additional face coverings with me for a limited time )
This is for everyone taking Driving Lessons from Monday 6th July.
A FACE COVERING SHOULD BE WORN DURING YOUR DRIVING LESSON UNLESS THERE IS A MEDICAL REASON NOT TO.
A cloth face covering should cover your mouth and nose while allowing you to breathe comfortably. It can be as simple as a scarf or bandana that ties behind the head.
Wash your hands or use hand sanitiser before putting it on and after taking it off. Avoid touching your eyes, nose, or mouth at all times and store used face coverings in a plastic bag until you have an opportunity to wash them.
Do not touch the front of the face covering, or the part of the face covering that has been in contact with your mouth and nose. Once removed, make sure you clean any surfaces the face covering has touched.
You should wash a face covering regularly. It can go in with other laundry, using your normal detergent.
When wearing a face covering, take care to tuck away any loose ends.